Last weekend I had the opportunity to go to Washington DC for my niece's baptism. This post was suppose to be for Wednesday but I had some technical difficulties and thus here is our We Believe Friday!
I wanted to share this special occasion with everyone and explain a little bit about our baptisms.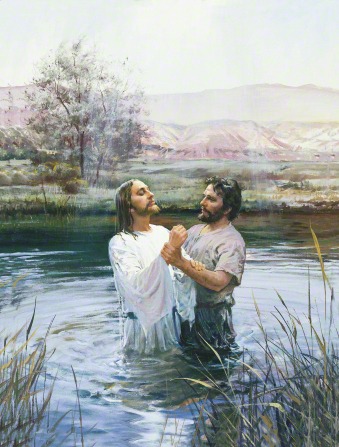 Jesus Christ being baptized by John the Baptist
We also believe in being baptized by immersion. This means that the person being baptized is put completely underneath the water. If a toe or hair come out of the water, then it needs to be redone. This is to symbolize the death of a person's sinful life and the rebirth into a spiritual one.
When someone is baptized, they are making a covenant , or two-way promise, with God. The person being baptized promises to take the name of Jesus Christ upon them. This means that they put His will first above their own. They also promise to keep the commandments and serve Him by serving others. When a person does these things, they are blessed with the constant companionship of the Holy Ghost, a remission of their sins and the blessing if being spiritually reborn.
HERE
.
HERE
to find the directions on how to make it and to fine the "Parable of the Pillowcase" poem. Its a cute poem explaining how when your pillowcase gets dirty you can wash it and how that relates to when we make mistakes we can repent and become clean again.